You made it here.
I don't know what path brought you, but you're here because you understand something fundamental.
Life is better when you control your own destiny.
And it doesn't matter if you're just getting started on your journey or have been trying it for a while, you know this is the path for you.
There is no need for me to ramble on anymore, what is this about?
The Conflict of Choice
The Internet has done a fantastic thing by providing us with all of the information that we need to find success.
So we follow 100 people on social media, subscribe to 27 mailing lists, and consume an endless amount of content.
A lot of it is good and it is helpful, but the problem is that you get everything in bits and pieces.
When building a business you know there are different aspects that you need to get decent at and so you learn them one at a time.
And usually from different people.
But this causes a problem. You don't get the whole picture.
You're being handed pieces of a puzzle by different people but they don't let you see the picture on the box.
What's the point of learning how to write online if you don't know what else goes along with it?
This leaves you with a conflict of choice. Do you…
Learn about creating products?
Master writing?
Try to build an audience?
Figure out those damn funnels?
Try to design a decent website?
And in what order do you learn them? In what order are you supposed to implement them? Is there an order?
It's a lot to take in.
One Place to Learn
So here's what I'm proposing to you.
Learn from one place. From start to finish, learn how to build an online business that fits your needs without having to scramble to look for information from different places.
But what kind of online business will you build? One built around teaching people how to achieve an outcome.
Wait, so you're going to teach me how to teach people how to make money online?
If that's what you want to do, I'm not here to stop it.
What I really do though is give you the framework to understand what you want to help people with, how to build customers around that, and build systems so that over time you work less while making more.
We'll go from niche selection (it's not what you think) to audience building (this is not what you think either) to offer creation (this is probably what you think) to building systems to allow you to make money even when you're not trying to make money.
One of the hidden costs of building an online business is that you often spend more time learning how to build an online business than actually building it.
But if you want a list of some of the things you'll learn here…
Creating content that creates customers
Building an offer portfolio that allows your revenue to scale to whatever limits you set
Funnels that run 24/7 and sell without selling
Sales pages that pull people in instead of pushing them away
Writing emails that people want to read instead of just opening them to remove the unread notification
Putting together a website so you aren't praying that your favorite social media platform doesn't shut down
More importantly, you'll have a single roadmap to follow that will guide you along to each milestone and ensure that you know exactly what to do next.
Introducing
The Create Your Own Economy Membership
This is a collection of courses that walk you through building a successful online business.
(Please note: Currently we are in the middle of a 6-week Cohort that finishes at the end of August. So if you purchase before then, just note you'll be in the middle of ongoing Live Workshops but that won't be a problem.)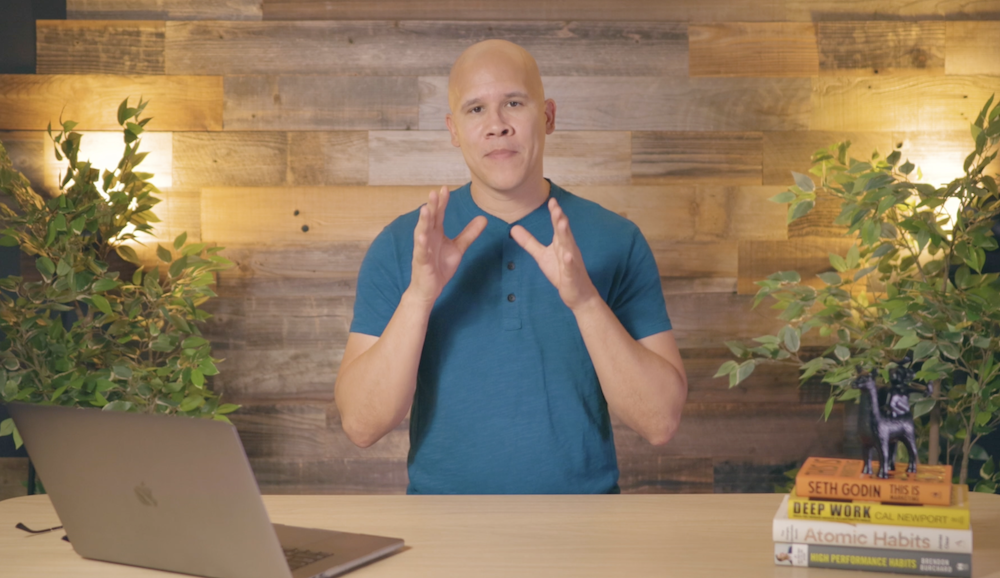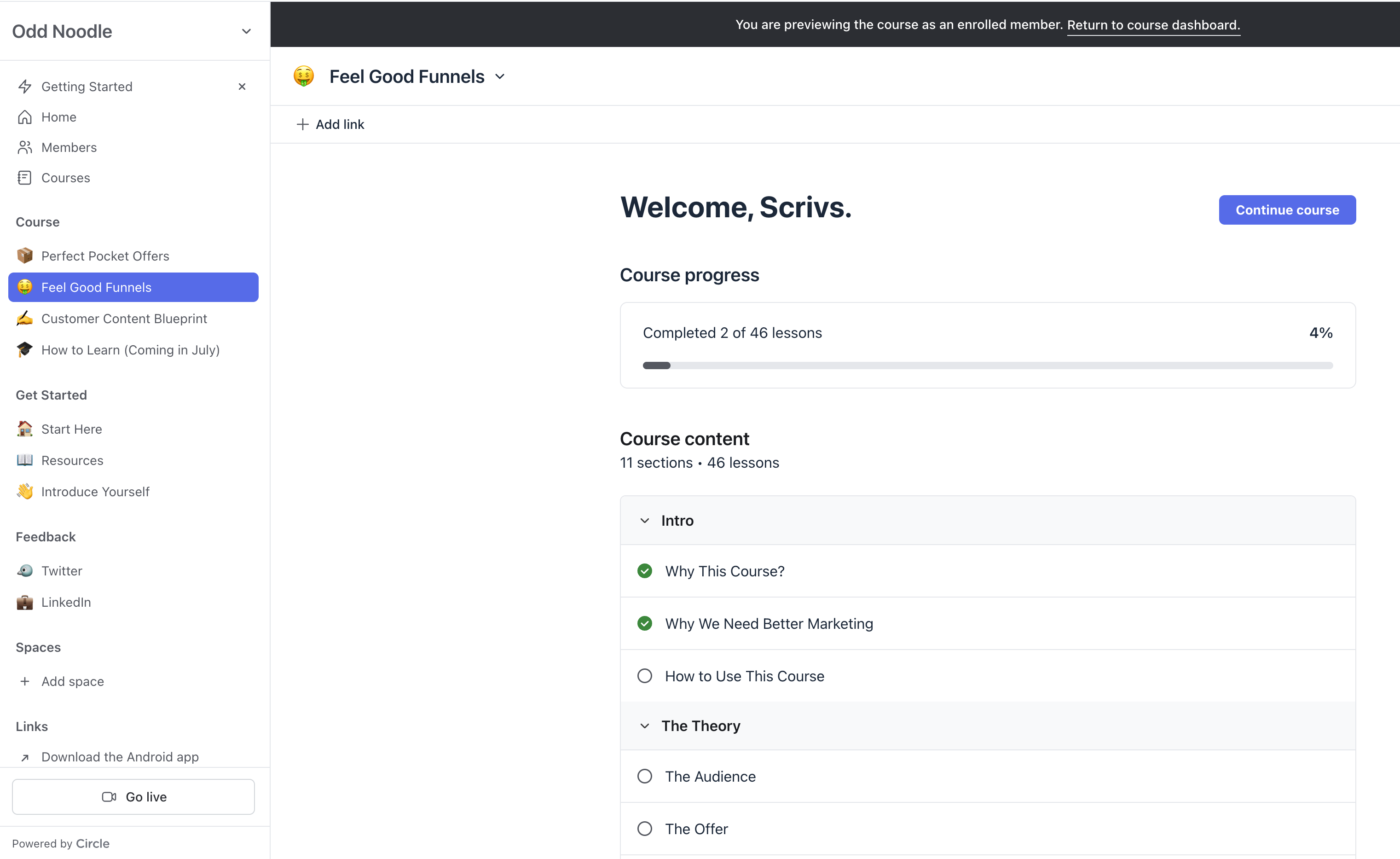 There is a challenge to creating a Program like this. Everyone is at a different point in their journey.
Some people are starting from scratch while others already have an audience and just want a bit more guidance.
The reason why this is the place for you no matter where you're at is because you aren't asked to follow a strict list of steps. You aren't building IKEA furniture.
You're building a business and that requires that you pick up the information that you need when you need it.
Here you'll find courses, workshops, and other amazing learning resources to guide you to whatever your next goal is. It doesn't matter if it's creating your first $1 online or going for $1,000,000.
And you'll always have access to the material.
From there, you'll be in a community with me and everyone else where we will share our journey, ask questions, and celebrate every tiny win.
And did I mention the Challenges? The goal is to continue to push forward and learn. To get better at building this thing that is going to provide us with the freedom that we crave.
I'm Going to Be Building With You
There is this weird dynamic between teachers and their audience.
We (the teachers) tell you that we're going to help you build a business and then we use our teaching business as THE example of our success. The problem with that is everyone wants to learn the thing we are teaching so we SHOULD be successful with it.
But what are the chances you want to teach the exact same thing?
So does that mean you'll have a harder time? It depends on how you learn to build a business.
But just so you're not alone I'm going to build a brand new business over the next 6 weeks just so you can see how I apply my own principles to something new.
The Guarantee
Can I guarantee your success?
Nope. But it's not because the material that you'll learn won't do it. You'll have everything you need to build that business that you want.
Just like the manual shows you how to build that IKEA furniture, it only comes together if you follow through on it.
There is no money-back guarantee for these reasons:
You can go through the material on this site and on Twitter to see if we vibe and if I know my stuff.
Live Workshops mean hands-on time with me.
A community that I'm active in also means you get time with me outside of the Live Workshops. I don't have assistants answering your questions.
You should know if you're ready to take this journey. If you aren't, then wait until next time (whenever that may be).
The $300 price attracts some people that are looking to take advantage of things, but it also opens the door for people who really want to do this.
This is not a social media growth course.
My philosophy is that you can start making money with your first follower but what things do you need to do to make that happen?
If this was reliant on you getting to 50,000 followers on whatever platform, then we'd just hope on Fiverr and pay for the growth.
What You'll Achieve
You'll have all of the material needed to:
Understand who you're talking to
Figure out what outcomes they want and the problems that they face
Master what offers to create for them
Build funnels to automate the selling for you
Create content that builds customers instead of browsers
Send emails that get not only read but remembered
Your Biggest Hurdle
I'll do my part in giving you all of the information that you need. That won't be the challenge.
The challenge will be overcoming yourself which is something that I unfortunately can't do for you. There will be material within Create Your Own Economy that will help with mindset, but only if you work on it.
I mention this because if you are looking for someone that mentally pushes you over your roadblocks, this isn't it for you.
Rarely is it the lack of information that holds us back from the success that we want.
Are You Ready?
My goal is simple. To teach everyone that wants to learn how to create their own economy.
And I stand by that. That's why in such a short period of time there is so much content on this site and on my Twitter.
But I know that some people want a more guided experience so here are the options.
$0
Self-Directed
$300+ is not a small investment and I respect that.
That's why every week you'll find new content on this site and multiple emails each week with new lessons.
Plus, a YouTube channel is coming soon…
$500 / yr
Guided
This is what you read about on this page.
A Full Business Program that includes every course that I create over the next year to supplement your education.
You'll also get full access to the community to ask me any questions and build up your network.
$2,000
Co-Pilot
1-on-1 coaching from me for 6 months
This is a unique program with an even more unique guarantee.
You and I will work together to build your business up to $2,000 a month by the end of month 6 or you get all of your money back.
Plus, full access to the Create Your Own Economy Program.
If you have any questions you can either shoot me a DM on Twitter or an email at scrivs@oddnoodle.com. Again, I don't have assistants checking these things.
It's just me.